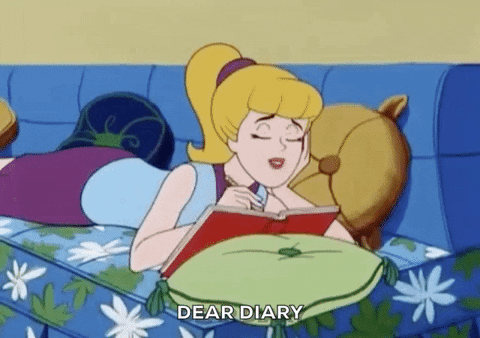 Writing in a personal diary is a good way to see your growth and expand your thoughts.
Your entries could be anything from recalling your day, writing personal thoughts, poems, drawing a picture, or recording your dreams. It isn't like keeping a journal for school where you had to write specific things- this time, it's for you! 
The hardest thing you may come by is the willingness to write frequently. You may think you don't have anything to record or that you don't have time. A tip you can use is to set a timer when you feel like writing to get your thoughts out. Eventually you will get used to a schedule and have a whole diary filled before you know it. 
In the beginning it is helpful to ask yourself questions to get your entry going:
What did I do today?
Did I learn anything today?
What are my personal goals?
If you are a writer, keeping a diary can help you with your creativity. It can be a source to grab material from and a place where you can store all your ideas. 
Be honest, be frequent, and be creative!